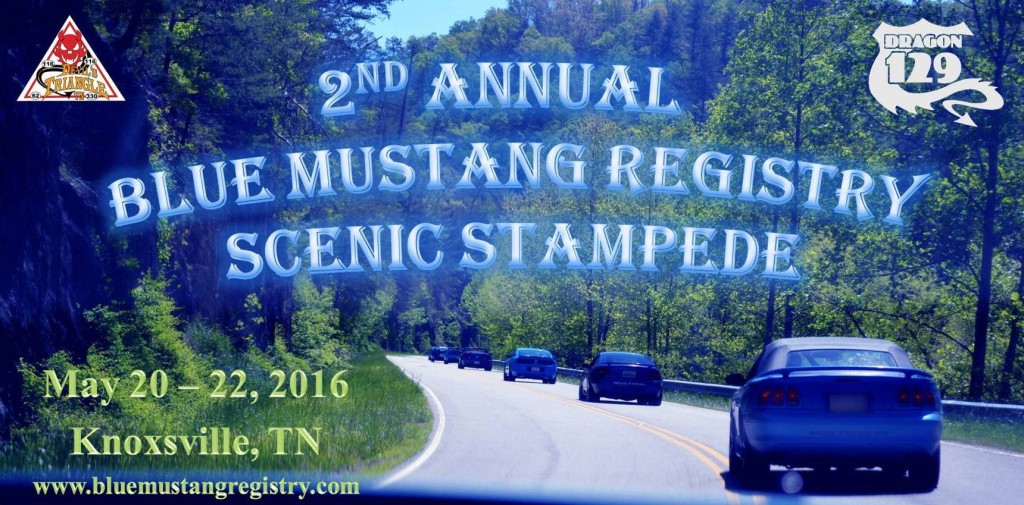 The 2016 Scenic Stampede was a success. To check out all the fun we had and to see the details for next year's Scenic Stampede check out our Facebook page dedicated to the Scenic Stampede!
We had a total of 34 cars come out covering 14 U.S. States and 1 Canadian Province!
Thank you to all those attended!
0001 Travis, Holly & Jasmin Lawson
0505 Diane Trimarchi & Ken Csaby
0509 Charles & Alyssa Halla
0554 Eric Goodman
0960 Cleston Cox
1033 Becky & Allan Franklin
1040 Richard Grimm
1142 Mark Gamble & Anna
1143 Angela Thomas & Tom Billings
1189 Terri & Mark Yontz
1194 Carlene & John Hall
1394 Jimmy Blair
1434 Helen & Mark Bryan
1449 Bobby DiDomenico
1559 Bethany & Cameron Hess
1629 Colin Davis
1697 Fran & Mike Hodapp
1712 Jimmy Holman
1751 Jason Becknell
1976 Ellen & Glenn Divan
2061 Kimberly & Daniel Cash
2126 Kathi & Jim Albright
2188 Brian Waldron
2230 Sonya Jones
2292 Shawn McKinnon
2301 Cole Keck
2321 Parker Fields
2382 Andrew Rines & Halli Shackelford
#### Liz Hensley
Black Jere Goodman
Black Kaci Collins
Silver Tom & Elizabeth Gibson
This event cannot happen without YOU! And maybe Allan
Planning for next year is underway so stay tuned for the dates shortly but give us some time to work out the details. I will say plan on extra day(s) and more events and options. Teaser over.
Personally (Tom), I'm still ecstatic even as a rainy Monday in Maryland attempts to tamper my enthusiasm. I plan and participate in many cruises a year locally and there just isn't anything that compares to this event. Mustang weeks here and there; keep'em! Car shows? No thanks! Give me the beautiful mountains of east Tennessee and western North Carolina with the top down and full tank of gas every single time.
For those that didn't make it this year, there's always next year and we want you there! Can we break the 1000 miles traveled to? Can we hit 50 'Stangs? Can a BMR number greater than 2999 be there? Can we have three generations of the same family represented? Can we get a Fox body sideways on a switchback? Yes, yes, yes, yes & YES! I know we can and those are next years' goals. Allan had far too easy of a time planning; let's make it hard next year for him!
Blue Crews, get out there and pound the pavement, get the other Blues registered and involved. Tell your non-blue Mustang buddies about the Stampede. Show them the pics and the videos.
We are the best Mustang group there is and we will continue to be as long as ya'll make it happen. Thank you thank you & thank you BMR!
**************************************
T-shirt Information!
**************************************
If you attended and did not pre-order your Scenic Stampede T-shirt you may do so HERE.
**************************************
Dragon Photo Information!
**************************************
Moonshine Photo:
http://moonshinephoto.photoreflect.com/store/ThumbPage.aspx…
Starts at 10:56 AM to 10:59 AM
—————
Highway 129 Photos:
http://xtremesportsphotography.photoreflect.com/…/ThumbPage…
We take up most of the "Mustangs" page they have. Starts at around 10:55 AM EDT and goes several pages.
—————
Killboy:
http://killboy.photoreflect.com/store/ThumbPage.aspx…
We take up most of the "Mustangs" page they have. Starts at around 11:00 AM EDT and goes several pages.
—————-
129 Slayer
http://store.129slayer.com/
Starts at around 11:00 AM.